India and Entrepreneurship: The Road Less Traveled.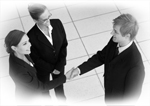 Resurgent India, with its new found economic independence, is inspiring individuals, to be courageous and follow their personal goals. No matter how unconventional they might be. This has motivated many dynamic and innovative students, at the premier business schools in India, to forgo lucrative opportunities and start their own ventures. In the bargain, they have created much desired job opportunities, for India's abundant human capital.
Entrepreneurs are visionary leaders, who lead by example and foster self-reliance and self-sufficiency. They mould the destinies of people by encouraging the qualities of leadership.
Team India's endeavor fulfills the need of the hour.


Our Entrepreneur
Ambitious Individuals
Unquenchable Desire to Succeed
Disciplined & Resilient
Visionary & Courageous
Strong business acumen
Strong work ethic
Benefits to our Entrepreneur
Realize your dreams
Minimal financial risk
Entrepreneurial independence
Association with big brands
Business starts on Day 1
Unlimited Growth prospects
Legal, financial and management expertise
For more Details, Contact us