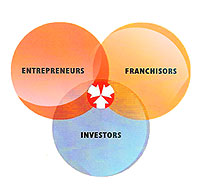 Team India Managers Limited
(TIML)

is a company which Catalyses Franchising opportunities by identifying and investing the need gaps, any Entrepreneur may have his/her quest to initiate franchising opportunity, for any brand of international repute, with respect to financial, general, operations and opportunity management. Our unwavering focus is to provide opportunities to entrepreneurs, franchisors and investors to actualize their potential, maximize profit and personal satisfaction.





TEAM INDIA MANAGERS LTD. - We help create Business Franchisee for YOU!